WORM PARASITE ONE
by Professional Botanicals
All Natural Herbal & Mineral Formula
Supporting the Removal of Worms & Parasites
ACTION:
Supports the removal of worms and intestinal parasites from the intestinal tract and aids in the removal of liver and gallbladder flukes. Parasites/worms have been associated with symptoms of weight problems, digestive issues, and many other metabolic conditions.

INDICATIONS MAY INCLUDE:
Parasites, weight problems, digestive disorders, irritability, boils, skin conditions such as itching, and many other metabolic disorders.

CAUTION - Not recommended for use with women who are breast feeding or during pregnancy.
KEY INGREDIENTS: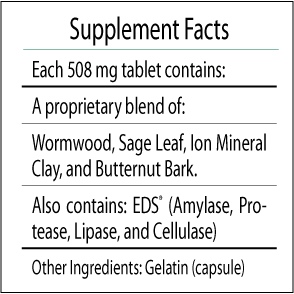 WORMWOOD
: It has been used throughout history as a vermifuge. (Oxford dictionary - a vermifuge is a substance able to destroy or expel intestinal worms). It is considered a safe and effective herb in combating round worms and hook worms. It is also valued especially for its tonic effect on the liver, gallbladder, and digestive system. It increases stomach acid naturally, improving digestion and the absorption of nutrients, and it also eases gas and bloating. Wormwood has been shown to help increase bile production in the body and more than one theory suggests that it is this increased bile production as well as the herb itself which helps eliminate some worms. Wormwood is not recommended for women breast feeding or during pregnancy.
SAGE LEAF (Salvia officinalis): Used traditionally for getting rid of worms. It is a very safe vermifuge. Because Sage tends to dry up secretions in the body, this formula is not recommended for women who are breastfeeding or during pregnancy.
ION MIN CLAY: A special clay from hot clay beds found effective in chelating debris and ridding the G.I. tract of worms and parasites. It is also an antiseptic.
BUTTERNUT BARK (Juglans cinerea): Butternut Bark is an anthelmintic (An agent that destroys or causes the expulsion of parasitic intestinal worms). It has a mild laxative effect. Of importance in removal of worms is to keep the intestinal tract in motion regularly.
Size: 120 Capsules
Suggested Dosage: Take 3 capsules 3 times a day for 4 days, then go off the program for 4 days. Restart and take the remainder of the bottle at the same dosage till gone. On the 3rd day take our Lax- Ease formula as directed. Should be accompanied with our BCT Oil; fill oil into one capsule each morning and take with the Worm Parasite capsules. Repeat protocol 30 days from the start date to kill egg hatching, or as directed by a Health Care Professional. IF POSSIBLE, AVOID EATING: Meat, protein and dairy products for the days on this formula for best results. Eating sour foods such as pickles or sauerkraut and salty foods will aid in ridding worms.
Other Beneficial Products: BCT Oil, In-Digest, Di-Aide Enzymes, Lax-Ease.



Enzyme-Enhanced Supplements
Maximizing the Body's Potential for Balance and Well Being
Professional Botanicals products harness the power of enzymes to improve the body's absorption of these powerful formulas. This proprietary "Enzyme Delivery System" (EDS) makes the difference. You get the most of every supplement by increasing the body's absorption and response to every formula. EDS Proprietary Blend Includes: Amylase, Cellulase, Lipase and Protease. Read more..
Additionally, Professional Botanicals also uses a
proprietary blend of adaptogens
in every formula. Adaptogens are an elite group of botanicals that work on a cellular level to support the body's ability to function, adjust and perform, especially during times of stress. AdPT® Proprietary Blend Includes: Eleuthero (Siberian Ginseng) Reishi (Ganoderma Mushroom), Jiaogulan, Cordyceps, Rhodiola Rosea.
Read more..
Required FDA disclaimer: These statements have not been evaluated by the Food and Drug Administration. This product is not intended to prevent, treat, cure, mitigate, or diagnose any disease.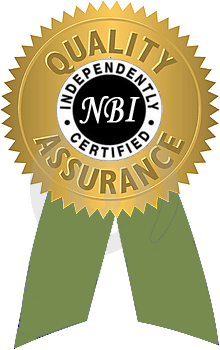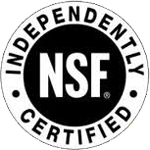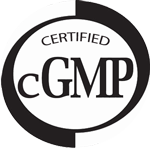 Made in USA